Ride-hailing Insurance

Ride-hailing companies like Uber, Lyft, and other Transportation Network Companies (TNC) offer excellent opportunities to earn a living or bring in some extra cash. While these app-based, on-demand ride services provide drivers perks like flexible hours, TNCs don't provide full coverage ride-hailing insurance to drivers who get into an accident.
That's where Mercury Insurance comes in. We offer the coverage you need to give you peace of mind while on the road making money all for as little as a $0.20 a day.1
How Ride-Hailing insurance works
When driving for a TNC, their commercial insurance policy kicks in once you accept a fare or are transporting a passenger. However, the commercial TNC policy only provides limited insurance coverage when your ride-hailing app is on but you haven't accepted a fare (Period 1 in the graphic below). Ride-hailing insurance from Mercury protects you and your vehicle in the event of a covered loss during this time.
It's important to understand that, without the ride-hailing endorsement, your personal auto insurance policy only provides coverage when your ride-hailing app is off. When your app is on, and you're looking for a fare, you may not have coverage.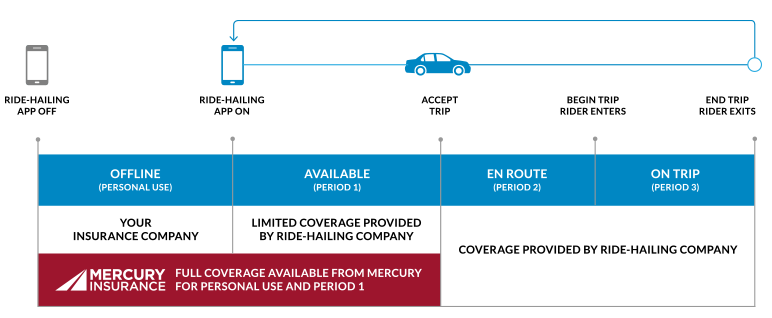 How Ride-Hailing insurance limits risk
So, what happens if you get into an accident waiting to pick up a fare? You might be on the hook for damage to other vehicles and drivers as well as yourself and your own car. Ride-hailing insurance mitigates risk during the time between fares.
Mercury has you covered
Our ride-hailing coverage2 can help fill liability gaps and provide you with premium insurance that gives you excess coverage when the TNC coverage isn't in effect. If you get into an accident and you're liable, Mercury Insurance will pay to fix the damage to the other vehicle(s), cover any resulting injuries and take care of having your car fixed at one of our authorized repair facilities.3
Get in touch with your Mercury Insurance agent today to learn more about our Ride-hailing insurance coverage.
Frequently Asked Questions
1Actual cost may vary, depending upon coverage selected and other underwriting factors. Purchase of a Mercury auto policy at an additional cost is required.
2Coverages may vary and are not available in all states.
3Subject to policy limits and eligibility requirements. Mercury coverage is secondary to Ride-Hailing company coverage.