Renters Insurance in New Jersey
Mercury understands that every dollar counts when it comes to renters insurance. That's why we offer some of the most affordable rates in New Jersey — without ever compromising on the quality of our coverage. Whether you're renting a studio apartment in Hoboken or a beach house in Atlantic City, enjoy peace of mind knowing we cover your belongings, personal liability, and medical payments to others in case of an accident. Learn more about our renters insurance and get a policy that's right for you.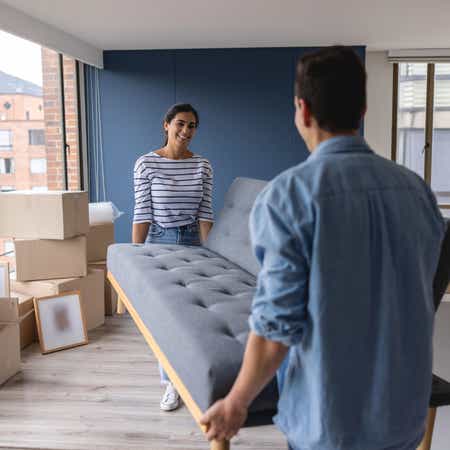 Customize a Renter's Policy That's Right for You
Life is unpredictable and, sometimes, unfortunate events can happen. In cases such as fires, burglaries, or burst pipes, renters insurance can provide the necessary support. At Mercury, we provide one of the best renters insurance policies in New Jersey at an affordable rate. We can work with you to tailor a policy that perfectly suits your needs
Take a moment to review the renters insurance coverage options we offer.
Personal Property:

This coverage helps cover the cost of replacing your belongings following a covered loss, such as fire, theft, or vandalism.

Additional Personal Property:

If you have fine art, jewelry, antiques, or other valuables, this coverage provides extra coverage for those items.

Personal Liability Protection:

This coverage helps pay your expenses if you're found legally responsible for another party's injuries or property damage.

Guest Medical Protection:

This coverage helps pay for your guest's medical expenses if they accident injure themselves on or around your rental property.

Workers' Comp Coverage:

If your personal part-time employees, such as nannies and maids, get accidently injured on the job, this coverage can help pay for their medical expenses.
Secure the Best Insurance Rate with Discounts
You can save even more on your renters policy with Mercury Insurance. We offer several discounts to help lower your rate so you can put that extra money towards something you really want like a new car or family vacation. Check out some of our available discounts:
Multi-Policy (Auto + Renters)
Gated community
Selecting a higher deductible
Smoke alarms
Security monitoring
Loss free discount
Frequently Asked Questions About New Jersey Renters Insurance
How Much Is Renters Insurance in New Jersey?
According to Value Penguin, the average cost of renters insurance in New Jersey is $15 per month, or $184 per year.
Is Renters Insurance Required in NJ?
No, renters insurance is not required by law in New Jersey.
What services does Mercury provide?
Can Landlords Require Renters Insurance in New Jersey?
While renters insurance is not a legal requirement in New Jersey, you landlord can ask you to provide proof of renters insurance before you can move into their property.
Is It Bad If I Don't Have Renters in NJ?
It's not bad, but if you want peace of mind while living as a tenant, renters insurance is an affordable way to protect yourself and your belongings from unexpected events, such as fire, theft, and vandalism.