It's been a difficult several months for musicians across the globe. Concerts and festivals have been postponed or cancelled entirely as social distancing is recommended over mass gatherings to curb the spread of COVID-19. Musicians rely on live performances to make their income, and for some, they've built their entire lives around life on the road.
As a longtime sponsor of live music and festivals, Mercury Insurance wanted to do something special for music fans, while also helping artists in their time of need. For the first time ever, the Mercury Insurance Concert Series was moved online to give music fans the chance to discover new music, while also providing financial support for some incredibly talented artists. Following their livestream performances, Mercury chatted with some of the featured artists to get their input on the concert series and how they are coping with the current state of the industry. Read on to hear from Flo Chase, Emily Coupe, Keaton Simons, Jessica Lynn, Demola and Justin Ratowsky in their own words.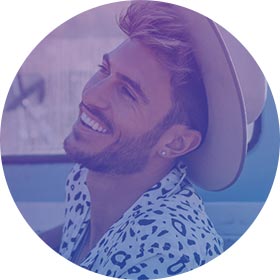 Flo Chase
Flo Chase is an indie pop singer-songwriter and multi-instrumentalist, who performs original music, as well as a variety of covers. His emotional lyrics reflect upon his experiences dealing with heartbreak and growing up as the child of French settlers in Sydney, Australia.
"All of my upcoming shows were either cancelled or rescheduled, so it has been challenging to generate funds these last few months. With all of this time at home, I've been writing, producing and planning my next release. I've also been doing daily workouts because I am a fitness lover, too."
When Mercury asked me to participate in the concert series, I thought it was such a generous gesture and concept. Livestreams were something to adjust to at first, but they are still an opportunity to hold live performances during quarantine and perform my music for more people. Personally, I always turn to music myself when going through a rough patch. Knowing that my music could possibly help bring some positivity and a sense of togetherness while going through this difficult time was a major inspiration as well as my central motive as a singer-songwriter and performer."
Check out Flo Chase on Instagram →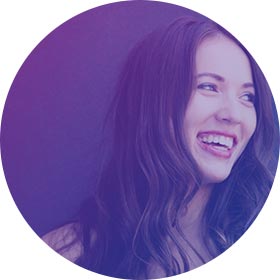 Emily Coupe
An Australian pop/folk artist with a soul twist, Emily Coupe's fusion of sounds has developed over the years, with influences ranging from singer/songwriter staples Jewel, Alanis Morissette and Sheryl Crow.
"Due to the pandemic, I don't have any live shows lined up for the rest of the year, and a few shows were canceled. But, I'm planning on doing some livestreams soon, especially following this concert series. It was really special to be able to participate and use my music to bring people together because I love the [Mercury Insurance] brand and the concept for promotion. Music is so important to me because of the way it makes people feel, and because it allows me to express how I'm feeling and my own unique voice, too."
Check out Emily Coupe on Instagram →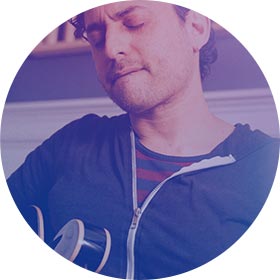 Keaton Simons
Keaton Simons is a singer/songwriter/producer/multi-instrumentalist. He has released numerous albums, EPs and singles, and is best known for his hundreds of film and television placements (including his song "When I Go" from the hit TV show "Suits"). In addition to his prolific solo career, Keaton has played with artists ranging from Snoop Dogg to Chris Cornell to his current gig as lead guitarist for country music superstar Brett Young.
"My live touring performance schedule was completely canceled. We are all looking forward to getting back on the road as soon as it's safe enough. Right now, everything is up in the air.
That being said, I've definitely been making use and seeing others make great use of all kinds of online platforms. Spending more time at home has allowed me to create more new music and get creative in the kitchen.
I was thrilled to be a part of the Mercury Insurance Concert Series. It was so much fun, and everyone was a pleasure to work with. Being able to connect with my audience all over the world from home through livestreams is bringing some much needed love and unity we can all use right now. Music has been with me throughout my entire life. It feels like my native language. I think the general importance and power of music is its ability to enable communication, connection and healing. It can change your life if you let it."
Check out Keaton Simons on Facebook →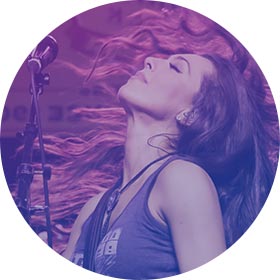 Jessica Lynn
Jessica Lynn is being hailed by press around the world as a rocket force and country music's next big star. A unique face and voice in modern music, she has been seen by millions on the road and in her three full-length nationwide concert television specials. Jessica's powerful voice and fierce stage presence showcase the multi-faceted singer/songwriter's instrumental talents playing piano, guitar, harmonica, and the drums.
"My entire three-month-long European tour was canceled this May through August. When I was first approached by Mercury to be a part of the concert series, I felt so appreciative to have the opportunity to give my fans a high-quality performance. Going "digital" is an artist's only way to keep their career going at this point, so it's been important for me to keep my fan base engaged.
I'm still recording at home because music is my entire life. It's how I express myself. Music is so important because it's a universal language that people of all different backgrounds, religions, etc., can come together on."
Check out Jessica Lynn on Facebook →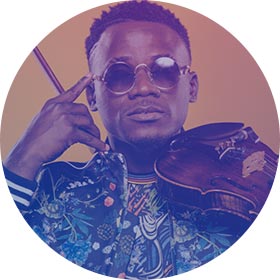 Demola
Demola (also known as "Demola the violinist") is a singer/songwriter, multi-instrumentalist, record producer, multi-genre violinist and award winning artist. Demola has garnered international acclaim with his most recent release titled "Gbedu," featuring afrobeat star, Davido. He is one of the first artists to fuse the various timbres of afrobeat, the colorful sounds of reggae, the pop tones and the animated bounce of hip-hop, while coherently blending it all together with the euphonious melodies of his violin. Demola is currently wrapping up an original violin album which is said to be a masterpiece. The project is scheduled for a late summer 2020 release, followed up by his highly anticipated vocal album.
"The stay-at-home orders has canceled the rest of my tour for this year and postponed many of my shows until next year. There is a lot of uncertainty about what shows will happen and what will be canceled.
I have adapted to streaming live shows on social media as a way to reach some of my fans. I've been using my time at home to create a violin album with all original sounds, and my team and I are so excited for the world to hear it. Otherwise, I've been creating more music and working on collaborations and self-development to be prepared for when the world finally reopens.
I felt so appreciative of Mercury Insurance for supporting artists and our fans during this time. I decided to participate in the concert series because I like the brand and vision, and I wanted my fans to be introduced to people who support TRUE ARTISTRY, especially during this time. Music is my total existence…it gives me a kind of satisfaction and excitement that nothing in this world compares to. It means a lot to different people, but to the world, it is a source of happiness, media of message and core fuel to the souls of people."
Check out Demola on Facebook →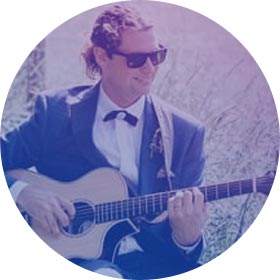 Justin Ratowsky
Justin Ratowsky is the lead singer-songwriter behind Cali Conscious, an uplifting California surf-reggae-rock band of consciousness and more. Formed in 2010 and naturally influenced by the sun, sand and sea, Cali Conscious blends three-part harmonies, upbeat rhythms and environmentally conscious lyrics. The eight-piece band (rhythm guitar, lead guitar, bass, drums, keys, sax, trumpet and percussion) prides itself on an energetic live experience that uplifts and soothes the soul. Justin often performs the songs of Cali Conscious as a one man band – using a loop pedal, he performs guitar, bass, lead guitar, percussion and vocals. He has co-produced and self-released two full length Cali Conscious albums on his record label Shaka Rasta Records: "High Times" in 2012, and their sophomore album "Avocado" in 2019. His song lyrics are positive, sharing a message of hope, living with love in the present moment and promoting a global and sustainable way of life.
"All of my shows have been canceled, including my weekly residencies with two local restaurants. During the stay-at-home orders through June, I was livestreaming for my fans once a week and receiving tips from my fans. Since livestreaming has slowed down, I've been spending some time learning about a new recording set up, spending a lot of time with my new six-month-old baby, and showing and selling property as a California realtor.
I've been a Mercury customer for 15 years, so I was stoked to have the opportunity to livestream with Mercury for the concert series, and my fans seemed to think it was cool, too. I really miss the experience of entertaining a live audience, but it is still really good to be able to connect and share my music and message with the world. Music makes me feel good. It is my meditation. I love that I can create something out of nothing and lift other people's energy. Music is important because it helps us connect on a universal language; everyone understands it. The world needs unity, compassion and love."
Check out Justin Ratowsky on Instagram →
The virtual performances from these artists are available to any music fan who visits www.mercuryinsurance.com/music/mics.