Renters Insurance in Virginia
Whether you're renting a cozy apartment in Virginia Beach, a two-story townhome in Richmond, or somewhere in between, you should make renters insurance a priority. It helps safeguard your belongings in case of a covered loss such as a residential fire, burglary, or natural disaster. Renters insurance can also help cover medical expenses and legal fees if someone gets hurt at your rented property.
Mercury Insurance is one of the best renters insurance providers in Virginia. We offer renters insurance at a great price, without compromising quality. You can rest easy knowing your belongings are protected and your liability claims are handled correctly. Mercury also provides local independent agents in every major area of Virginia, allowing you to get a renters insurance policy based on your specific location.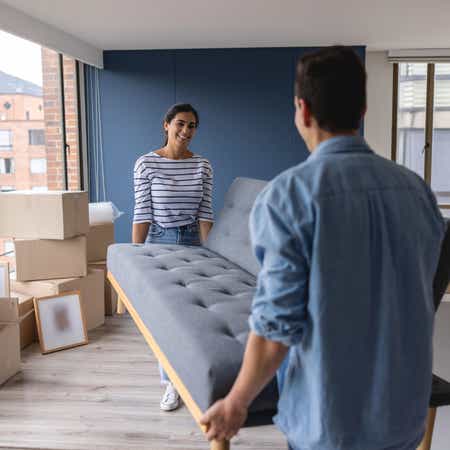 Get Affordable Renters Insurance That's Right for You
At Mercury Insurance, we understand you have unique needs. That's why we offer flexible plans and competitive rates to fit any budget. Our policies are designed to give you the protection you need so you can rest easy knowing your belongings are covered. Our local independent agents can help you every step of the way and ensure you receive a renters insurance policy that's right for you.
Please take a moment to explore your options and begin creating a customized coverage plan today.
Personal Property:

Provides coverage for your household items in the event of a fire, theft or other covered loss.

Additional Personal Property:

Provides additional coverage for antiques, fine art, jewelry and other valuables.

Personal Liability Protection:

Pays for bodily injury or property damage caused to others as a result of a covered incident.

Guest Medical Protection:

Pays medical expenses for your guests who are accidentally injured on your property.

Workers' Comp Coverage:

Pays medical expenses for your personal part-time employees, such as nannies or maids, who are injured on the job.

Green Home

Offer up to 10% extra coverage for environmentally-friendly alternatives or construction methods following a covered loss.

Matching of Undamaged Siding and Roofing

In the event of a covered loss where your siding or roofing cannot be matched due to unavailability, this coverage can help cover the cost of replacing your roof or redoing your siding.
Save More on Renters Insurance with Discounts
We know every dollar counts when it comes to renters insurance. That's why Mercury provides a variety of discounts to help you save even more on your policy. Take a look at some of the discounts we offer:
Multi-Policy (Auto + Renters)
Gated community
Selecting a higher deductible
Smoke alarms
Security monitoring
Loss free discount
Green Home
Updated Home
Good Payer
Paid in Full
Frequently Asked Questions About Virginia Renters Insurance
What Is the Average Cost of Renters Insurance in Virginia?
According to Value Penguin, the average cost of renters insurance in Virginia is $15 per month, or $185 per month.
Do You Need Renters Insurance in Virginia? Is It Required?
While renters insurance is not required by Virginia law, your landlord can require you to get a policy before you can move into their property.
What services does Mercury provide?
What is Not Covered by VA Renters Insurance?
Renters insurance generally doesn't cover:
Flood damage
Earthquake damage
Bed bugs and pests
Car theft or damage
Your roommate's property
Can I Buy Renters Insurance Online in VA?
What Is the Benefit of Renters Insurance in VA?
Renters insurance provides important financial protection as a tenet. It can help you replace lost or damaged property and provide liability protection in the event of an accident. Plus, it's an affordable way to provide peace of mind and ensure you're protected following an unexpected loss.