Renters Insurance in Oklahoma
Whether you're moving into a cozy apartment in Tulsa or a spacious two-bedroom condo in Oklahoma City, make sure finding high-quality renters insurance is on your to-do list. Burglaries, residential fires, burst water pipes, and other unfortunate incidents happen when you least expect it. Renters insurance gives you peace of mind by safeguarding your belongings in case of a covered loss. It can also cover medical expenses and legal costs if someone gets injured at your rented property.
Mercury Insurance is one of the best renters insurance providers in Oklahoma. We offer some of the cheapest renters insurance rates in the state — all without compromising quality. You can rest assured that we'll protect your belongings and handle your claims with the utmost care. Mercury also provides local independent agents in every major area of Oklahoma, allowing you to get a renters insurance policy tailored to your needs.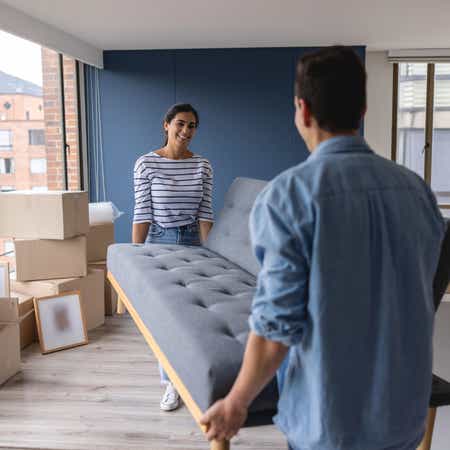 Get a Renters Policy That's Right for You
A large portion of Oklahoma is located in Tornado Alley, an area of the United States where there's a high probability for tornado development. In addition to natural disasters, renters can encounter unexpected events at any time, like burglaries, burst pipes, and residential fires. Whether you live in a house, apartment, or condo, Mercury's local independent agents can customize a renters insurance policy that helps protect you and your belongings.
Take a look at some of the coverages we offer and get a renters policy that's right for you.
Personal Property:

Provides coverage for your household items in the event of a fire, theft or other covered loss.

Additional Personal Property:

Provides additional coverage for antiques, fine art, jewelry and other valuables.

Personal Liability Protection:

Pays for bodily injury or property damage caused to others as a result of a covered incident.

Guest Medical Protection:

Pays medical expenses for your guests who are accidentally injured on your property.

Workers' Comp Coverage:

Pays medical expenses for your personal part-time employees, such as nannies or maids, who are injured on the job.

Green Home

Offer up to 10% extra coverage for environmentally-friendly alternatives or construction methods following a covered loss.

Matching of Undamaged Siding and Roofing

In the event of a covered loss where your siding or roofing cannot be matched due to unavailability, this coverage can help cover the cost of replacing your roof or redoing your siding.

Refrigerated Products

If your refrigerator loses power or malfunctions, resulting in spoiled food, our coverage provides up to $1,000 for food items.

Limited Hidden Water, Steam Seepage, or Leakage:

Provides coverage if your personal property gets damaged or destroyed due to seepage or leakage of water, steam, or moisture.
Save More on Renters Insurance with Discounts for Oklahoma Residents
We know every dollar counts when it comes to renters insurance. That's why Mercury provides a variety of discounts to help you save even more on your policy. Take a look at some of the discounts we offer:
Multi-Policy (Auto + Renters)
Gated community
Selecting a higher deductible
Smoke alarms
Security monitoring
Loss free discount
Green Home
Updated Home
Good Payer
Paid in Full
Digital (paperless billing and documentation)
Frequently Asked Questions About Oklahoma Renters Insurance
What Factors Determine OKC Renters Insurance Rates?
Some of the factors that determine your renters insurance include:
The amount of coverage you want your policy to cover
Your credit history
The deductible amount you choose
Your location
How Can I Lower My Renters Premium?
There are a few ways you can reduce your renters premium:
Choose a higher deductible
Bundle your renters and auto insurance policies
Take advantage of the many discounts that Mercury Insurance provides
Move to a different neighborhood that helps lower your risk profile — e.g., lower crime rate, newer buildings
What services does Mercury provide?
How Much Is Renters Insurance in Oklahoma?
According to Value Penguin, the average cost of renters insurance in Oklahoma is $26 per month, or $308 per year.
Is Renters Insurance Mandatory in Oklahoma?
No, renters insurance is not required by law in Oklahoma. However, your landlord has the right to request proof of renters insurance as part of their leasing agreement.
Additional Oklahoma Resources