Mercury Insurance partnered with Habitat for Humanity to help build homes for veterans in Santa Clarita. Twenty-one employees volunteered their time on Saturday, January 14 to take down old fencing and erect new fencing in a neighborhood that, when complete, will house 78 veterans and their families. It's the first of six builds in which Mercury employees plan to participate throughout 2017.
"Mercury has partnered with different Habitat for Humanity affiliates for the past three years," said Liz Romero, Mercury's senior employee relations specialist. "This project is extremely special to us because our founder, George Joseph, served in World War II as a B-17 navigator, and many of our employees are veterans or have family members who are currently serving. This is one of the many ways we say thank you to the men and women who sacrifice so much to protect our freedom."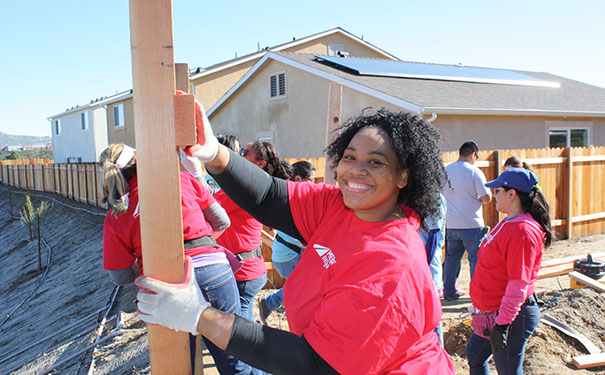 The homes come in two styles:
1,450 sq. ft. one-story home with three bedrooms and two bathrooms; and
1,650 sq. ft. two-story home with four bedrooms and three bathrooms.
All homes include two-car garages, washer and dryer hookups, tankless water heaters and solar panels. They also feature outlets that are 18 inches from the ground – higher than the standard 12 inches to accommodate people with disabilities – and none of the homes have fluorescent lighting, which can trigger post-traumatic stress disorder (PTSD). The neighborhood also features an urban community garden, a Disney park for children, a fruit tree grove, a sports court and a green area.
"To see people coming out on a Saturday to turn concrete into a dream gives me a lot of hope," said Mark Johnson, retired Army veteran and father of three, who will receive a home in the community. "I appreciate all that Mercury's volunteers did at the build site."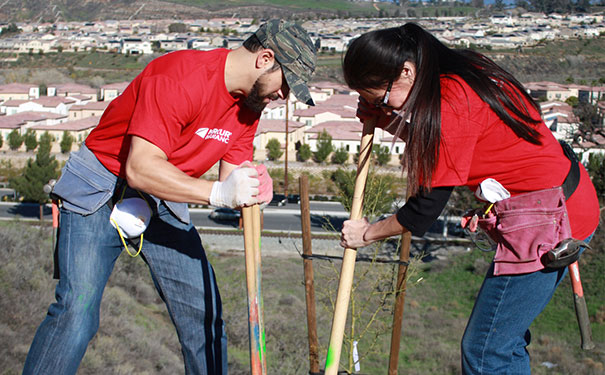 The community is an Enriched Neighborhood® Model, which was developed by Habitat for Humanity's sister agency Homes 4 Families, and piloted by Habitat for Humanity San Fernando/Santa Clarita Valleys. This model couples affordable home ownership for veterans with services that include credit counseling, financial literacy classes, trauma-informed art and music workshops, equine therapy, employment and life skills, parenting skills, a mentorship program, tutoring, educational programming for military children, and more.
"The sacrifices veterans make are huge, which is why we are determined to give them a place to call home," said Donielle De Leon, Habitat for Humanity San Fernando/Santa Clarita Valleys director of corporate and community engagement. "These homes can only happen when companies like Mercury Insurance make financial contributions and employees come out and put their brawn behind the finances to build homes for our veterans."
Homes in the community are sold to veterans and should they move out of the community, he or she must sell the house to another veteran – no exceptions.
Here's what Mercury employees had to say about the day.
"Volunteering for a Habitat for Humanity build has always been on my bucket list. It's great to get to work as a team and spend time with my colleagues. The icing on the cake was meeting some of the people who will receive homes in this community and working side by side with them." – Chris O'Rourke, Mercury's vice president of property claims.
"Being at the Habitat for Humanity SF/SCV build feels really good. I want to help veterans because it hits close to home for me." – Kushwinder Sharma, Mercury senior software developer.
"We've always wanted to help build a home and we couldn't think of a better way to spend Sara's birthday weekend. Helping others is just a great thing to do." – Cheryl Makeever, Mercury claims specialist II, and her wife Sara Makeever.
"We planned for this event for some time. It's our goal to volunteer more and having my sons participate was really important. I want them to learn at a young age to give back to the community."– Edward Chin, Mercury's regional manager for material damage, who brought his two sons ages 16 and 20.
The next Mercury Insurance build with Habitat for Humanity San Fernando/Santa Clarita Valleys is scheduled for Saturday, January 28, and volunteers will get to work on a home's construction.
Related Stories
Mercury Insurance Employees Say 'Thank You' To Troops
Resolve to Change Someone's Life for the Better