By the Mercury Team
Mercury Donates 2015 Kia Sorento and Raises $15,500 For Alex's Lemonade Stand Foundation
Childhood cancer is a devastating disease that claims hundreds of thousands of lives every year. Despite this, funding support is only a fraction of what many other diseases receive, with less than five percent of Federal cancer research funds directed toward pediatric cancer research.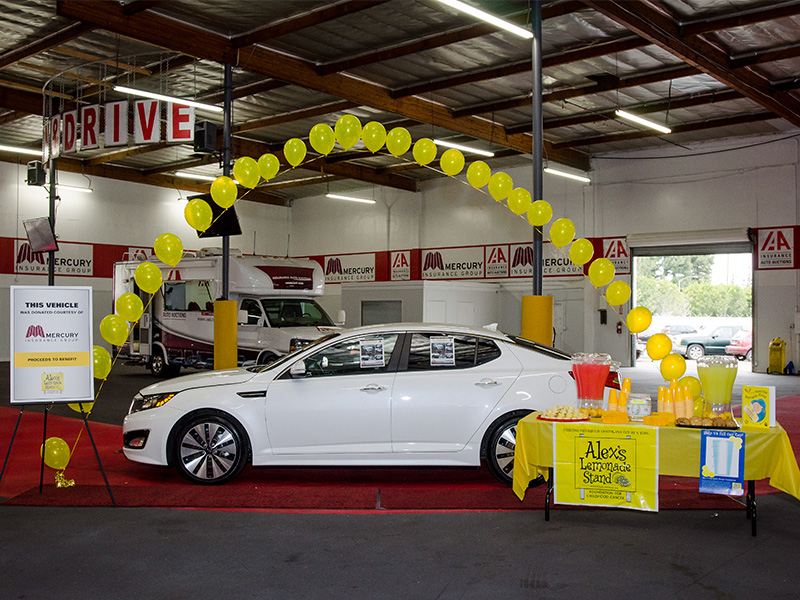 Mercury Insurance helped address this issue by donating a 2015 Kia Sorento with less than 200 miles on the odometer. The vehicle was auctioned off at Insurance Auto Auctions in Anaheim on September 29. The car sold for $15,500 with all proceeds directed to Alex's Lemonade Stand Foundation (ALSF), a charity founded by a four-year-old girl with cancer who wanted to find a cure by selling lemonade. The Foundation has grown into a national movement that has raised more than $80 million for childhood cancer research via lemonade stands, fundraisers and car donations.
Cancer survivor and "ALSF Hero" Andrew Sprague, who works with the Foundation, stars in their commercials, reads ALSF founder Alex's book in schools and sells lemonade, attended the auction.
"Pediatric cancer research doesn't always receive the support and funding that other cancers do," said Kim Sprague, Andrew's mother. "More than 263,000 children are diagnosed with cancer each year, so the Lemonade Stand here in Anaheim and Mercury's donated car will aid a tremendous cause. Every dollar raised today will make a difference."
Money generated from donations like Mercury's supports children like Andrew, who was diagnosed when he was only two years old and has been in remission for eight years.
This is the third consecutive year Mercury has supported ALSF, raising nearly $40,000 through donated cars during that span.
"Mercury helps put customers' lives back together every day, so partnering with an organization that does the same for families and children who are battling cancer is a natural fit," said John Dicken, Mercury's national claims director. "By supporting Alex's Lemonade Stand Foundation through the IAA, as they strive to eliminate childhood cancer, we hope to bring us one step closer to curing these terrible diseases."