By the Mercury Team
Waiting for a new car to arrive on a showroom floor can be excruciating, particularly if you've already built the vehicle 50-times on the manufacturer's website. This is especially true for fans of the Chevy Camaro. The all-new 2016 model of the iconic car is certainly worth the wait.
First, Chevy's muscle machine has gone to the gym – translation: more power and less weight. Other than the badging on the vehicle and its timeless design, the sixth-generation Camaro is all-new for 2016.
Next, Chevy created a "nearly fastback" profile with pronounced haunches in the rear fenders, which enhances the vehicle's wider, more aggressive stance. Engineers boast that the vehicle has undergone more than 350 hours of wind tunnel testing to improve cooling while reducing aerodynamic lift and drag. Improvements such as a subtle "air curtain" direct air around the wheels rather than into the wheelhouse, which helps improve handling and fuel efficiency.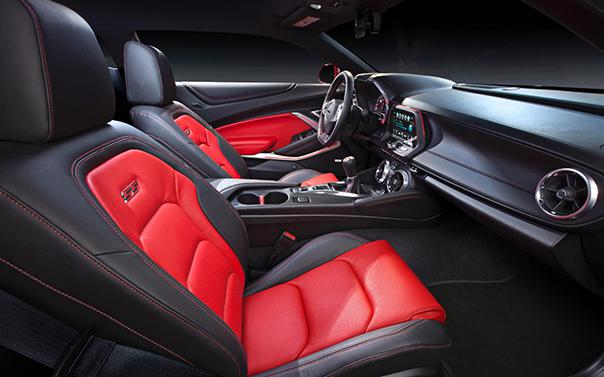 Chevy set out to give the new Camaro a driver-focused interior, which offers more options for customization than any of its predecessors. The new model features a configurable instrument cluster and ambient lighting system that accentuates a higher quality interior, as well as a shifter-focused console with intuitive controls and a flat bottom steering wheel that adds a sporty feel. To remove clutter, control rings were placed around the air vents to allow for temperature and fan speed adjustments – eliminating the need for conventional buttons.
Pop the hood and you will find more powerful versions of the brand's 3.6L V-6 and 6.2L V-8 engines, in addition to an entry-level turbo four-cylinder with a GM-estimated 30 highway mpg. Each engine can be paired to either a six-speed manual or eight-speed automatic transmission, the latter of which Chevy engineers say offers a five percent improvement in fuel efficiency over comparable six-speed automatics.
The 2016 SS model has been designated "The most powerful Camaro SS ever" with an exclamation point in the form of an unmistakable exhaust note. Camaro's V-6 and V-8 engines will feature mechanical sound enhancers that direct engine noise into the cabin, with the option for drivers to personalize the exhaust sound from "stealth" to "aggressive."
This year's model could be likened to listening to an old album on an iPod – improvements in technology and engineering make the experience infinitely easier to enjoy, packaging nostalgia with modern safety features in a timeless design that makes this car uniquely Camaro.