We offer what matters most to your agency.
State of the Art Technology. Since our independent agent relationships are so vital to our success, we are committed to continually improving our technology to make our agent partners successful. This includes our point of sale systems, third party integration, and other products to improve the overall efficiency of working with us.
Ease of Use. Whether it is our point of sale platform, underwriting guidelines, or claims reporting, we want to ensure that your staff is comfortable with our process. We provide both initial and on-going training, and look for ways to continually improve by listening to you.
A Personal Relationship. Every agency will have personal contact with a Marketing Representative. The representative's main responsibility is to assist in your agency's success. All our agents receive support and assistance from our Marketing department, whether you are a small local agency or a large corporation.
Excellent Claims Service. When a Mercury customer is involved in a loss, we want them to know that we are here to serve them when they need us most. Our customers have the ability to report their claim at any time, follow up on the status, and ask any questions that they may have with our dedicated staff of claims professionals.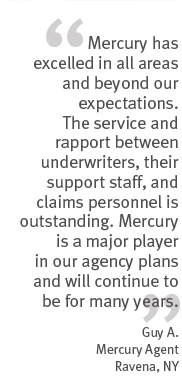 Mercury has excelled in all areas and beyond our expectations. The service and rapport between underwriters, their support staff, and claims personnel is outstanding. Mercury is a major player in our agency plans and will continue to be for many years.
Guy A.
Mercury Agent
Ravena, NY
|
|
|
© 2004- Mercury Insurance Group