Trojans football tickets are extraordinarily difficult to come by, especially when the team's on a run towards a top ten finish to the season. Mercury Insurance teamed up with USC Athletics for the 2016-2017 football season to give five lucky fans the experience of a lifetime – four tickets to the Notre Dame game on Thanksgiving weekend, along with four tickets to the pregame tailgate party, on-field access during pregame warmups and a USC gift bag.
Two winners – Miguel Arretche and Curtis Bibolet – won Mercury's online sweepstakes, while three others – Sean Angotti, Bernie Brizuela and Richard Higa – visited Mercury's booth in the USC Trojans Fan Zone at a home game and spun the prize wheel for their chance to win.
They share what it was like to be a VIP on game day.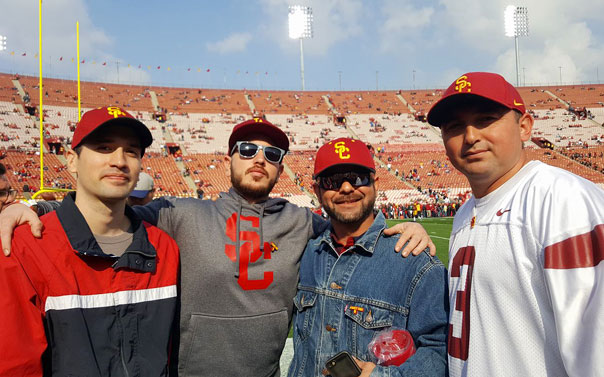 MERCURY: Why'd you choose to enter the sweepstakes?
Miguel Arretche: My brother is a huge USC fan and thought I should enter the VIP Experience Sweepstakes since it was being hosted by Mercury. I trust Mercury so I felt secure in the sweepstakes being legitimate.
MERCURY: What were your first thoughts when you found out you won the tickets and on-field experience?
Miguel: I was very excited to have won. I had been tailgating before, but knew that the on-field experience would be special.
Curtis Bibolet: I was super excited and canceled my plans to go to my friend's 10-year company party.
Sean: I was a little hesitant at first when I was informed that I had won the VIP package because I don't usually win things. Once I realized I had actually won, I was excited.
Bernie: I was so excited that I won!
Richard: Very surprised and of course, elated.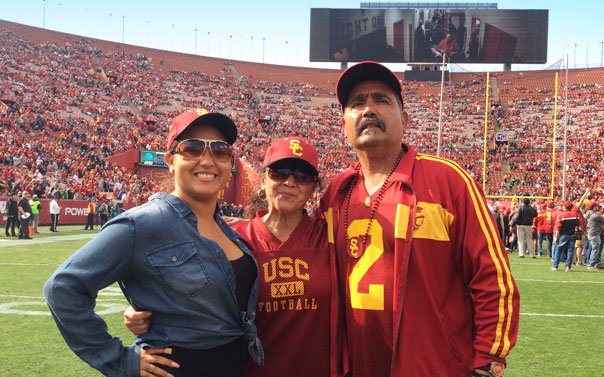 MERCURY: Who did you bring with you on game day for your VIP experience?
Miguel: I took my twin brother and my two cousins, who are all huge USC fans.
Curtis: My brothers.
Sean: I brought my girlfriend Trisha, my oldest son Dakota and my youngest child Nico.
Richard: I brought my wife, my daughter and her boyfriend.
MERCURY: What were you most looking forward to for this match-up (Trojans vs. Fighting Irish) and the day overall?
Miguel: I was looking forward to the pregame ceremonies such as the introduction of the players and the performance of the marching band. It was a great sight to experience these events up close.
Curtis: I was most excited to be able to get on the field before the game.
Sean: I was most looking forward to the Trojans beating the Irish. Attending the VIP tailgate party is something I had never done. My oldest son played football and my youngest son is still playing high school football, so I was really looking forward to them experiencing the pregame field passes. It's something they really enjoyed.
Bernie: Just being there!
Richard: A hard fought and closely contested game because there was a lot at stake. A Trojan win resulted in the chance to play in the Rose Bowl.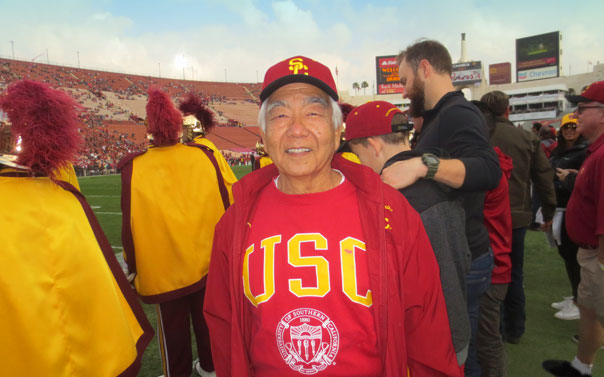 MERCURY: What was it like to be on the field before the game?
Miguel: Being on the field was awesome! It was unlike any sporting event I had ever experienced before. In the stands, you might concentrate on the big screens or the scoreboard, but on field it is a totally different experience. You see and experience more of the events that go on before a game. You can see the athletes practicing yards away, cheerleaders performing, the band marching, and TV reporters preparing for their screen time. It was very interesting to see so much more of what goes on before a football game.
Sean: We had a great time! The VIP tailgate experience was exceptional. Being on the field for pregame warmups was a once in a lifetime experience.
Bernie: It was an unbelievable experience and a dream come true!
Richard: Being on the field was a first time for all of us. It was very exciting, much more than we had anticipated. We all felt the energy and excitement of the fans, the cheerleaders, the band and the players.
MERCURY: What was the best part of your VIP experience?
Miguel: The best part was observing my guests' reactions to the events that were going on in front of them. They are huge USC fans. One of my cousins knew every player. As they were being introduced and walked in front of us, he gave encouraging words and called them by their names. Many of them were caught by surprise at their first names being chanted and acknowledged his support.
Sean: The USC gift bag and the food were great.
Bernie: The hospitality and food. We felt special.
Richard: Sharing the experience with my family, who had a great time taking photos of the Trojans during pregame warmups and entering the Coliseum through the tunnel ... that was the best. We also loved the ribs and wings at the VIP tailgate party.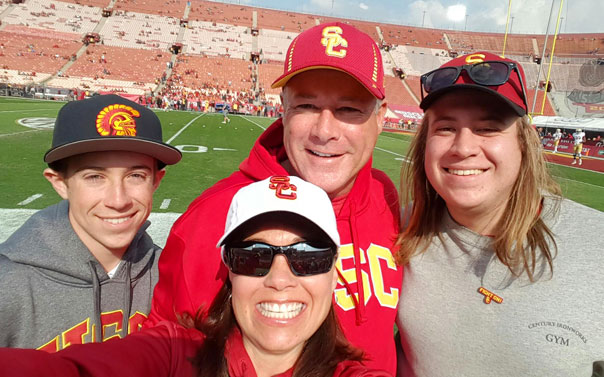 MERCURY: Any additional comments?
Miguel: Thank you Mercury for an amazing experience!
Sean: The entire day was something we will never forget.
Bernie: A heartfelt thank you. It's a great memory for me and my family!
Richard: Thank you Mercury for a wonderful experience and a great time! Happy holidays.
The Trojans overcame one of the nation's toughest schedules to end their season with a 10-3 record and a 45-27 win over the Fighting Irish. Next stop is the Rose Bowl on January 2 to face Penn State's Nittany Lions. The game will air on ESPN at 2 p.m. PST.