Personal Auto
Mercury's competitive rates and great service have provided our policyholders with some of the best auto insurance values available for more than 50 years.
Low rates, a wide range of policy discounts, and great claims service are the reasons why people switch to Mercury. Combine that with personalized service from local, independent agents like yourself and its no wonder customers consistently choose to renew with Mercury.*
A variety of coverage options
Flexible payment plans
Roadside assistance
Mechanical Breakdown Endorsement
Ride-Hailing Endorsement
24/7 Toll free claims service
A broad array of policy discounts
*Coverage options, discounts and pay plans may vary by state.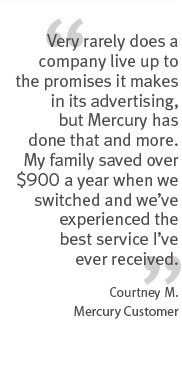 Very rarely does a company live up to the promises it makes in its advertising, but Mercury has done that and more. My family saved over $900 a year when we switched and we've experienced the best service I've ever received.
Courtney M.
Mercury Customer
|
|
|
© 2004- Mercury Insurance Group