At Mercury we offer what matters to you.
Financial Stability. Mercury is rated A by A.M. Best, and is proudly ranked as one of America's most trustworthy companies by Forbes.com.
Reliability. Our agents have come to rely on our company through economic and industry changes. Regardless of the change, Mercury has been there to support the independent agent.
Independent Agent Relationship. Mercury has been working with Independent Agents since 1962. We value the risk assessment, judgment, and great customer relationships the independent agent develops with their clients. We firmly believe that a properly trained and motivated independent agent has an edge in the insurance industry.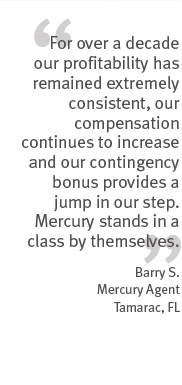 For over a decade our profitability has remained extremely consistent, our compensation continues to increase and our contingency bonus provides a jump in our step. Mercury stands in a class by themselves.
Barry S.
Mercury Agent
Tamarac, FL
|
|
|
© 2004- Mercury Insurance Group